Testimonials
Almost every day we get messages from people giving witness to St. Gerard Majella's powerful intercession: overcoming infertility, receiving the gift of motherhood, getting through a difficult pregnancy, a safe delivery, a healthy baby, a relationship restored, healing and health recovered, to name a few. We want to share a sample of these messages here because they inspire three things we all desperately need: faith, hope and love. Submit your own testimonial here.
THANKSGIVING FROM SHARON AND ELSON
Dear Saint Gerard, we thank you for the blessings of our healthy pregnancy and safe delivery through cesarean section last April 6th, Saint Gerard 's birthday! Saint Gerard will always be part of our lives. Through his intercession and with God 's blessings, everything is possible. Have faith and trust in God Almighty. May you always continue to intercede for us dear Saint Gerard. God bless us all.
---
THANKSGIVING/PRAYER REQUEST FROM ANGELA
This is my son Lucas and he is the result of many prayers and love for Saint Gerard Majella. Please give thanks to God and St. Gerard with me and all my family for this most precious gift. All praise and glory to the Living God, Giver of all Life. Amen. (Editor's Note: St. Gerard loves Lucas, of course, but is also pretty fond of the little bear's shirt!)
---
THANKSGIVING FROM MARG, ON BEHALF OF MALISHA AND SURESH
We praise and thank our heavenly Father for the gift of our beautiful baby niece, born healthy and safe on April 21, 2017. We thank our Blessed Mother, Saint Gerard and all our dear brothers and sisters for interceding for us. Please continue to keep us all in your prayers! God is good! All glory to God! Amen!
---
THANKSGIVING FROM JING
Hi, I would like to give thanks to Saint Gerard Majella for his intercession when I had my biggest worries during my pregnancy. I thank God every day for this wonderful blessing given to me. Meet Laly, a precious creation of God. She's 19 days old and was very healthy when I delivered her, despite some complications in the pregnancy. We have to trust God and God does works wonders. Thank you also, friends of Saint Gerard, for all the prayers. Have faith. (Attached is a photo and you can post this. Thanks!)
---
THANKSGIVING FROM ANGIE
Hello, good day. I would like to thank you for always including me in your prayers. I have delivered my baby already by cesarean section. I pray that God will always guide my baby boy and me, and all mothers and pregnant women who keep hoping. Once again, a big thank you. Amen.
---
THANKSGIVING FROM ONYI
Thanking God, Father, Son and Holy Spirit, for my sister, Amy, who has just delivered a baby girl today. I thank God for His blessings and mercies. Thank you, dearest Mother Mary, for being with her throughout the pregnancy. Thank you, St. Gerard, for your intercession. May the name of God be praised now and forever. Amen. Thank you all for the great work you are doing.
---
THANKSGIVING FROM JEDNNETH
Good day, Father Joe, and all the Saint Gerard Majella prayer angels. It's me again, Jednneth. I had been sending prayer request since 2014 and my last message was last year, asking my Saint Gerard Community to help me pray for a safe pregnancy. My baby was born premature (at just 26 weeks and 4 days), last September 21, 2016, via Cesarean Section, as I had experienced heavy bleeding earlier that day. My baby boy was kept in the NICU for three months. During that time, my husband and I, and our entire family, never failed to ask our Lord God, and of course Saint Gerard, for my child's fast and complete recovery. He was born so tiny (just 870 grams). His heart had not closed yet. He had complications with his lungs, and his eyes were not fully developed. His doctor even suggested a laser operation, lest my child go blind. The worst was that, since my child was premature, he could easily have gotten bacterial infections. During those first three months, he was diagnosed many times with high levels of bacteria in his blood. But because of our faith and our prayers, my baby made it. He fully recovered. The laser operation scheduled for his eyes has been cancelled and he was discharged this past December 30th. We cannot contain our happiness as we celebrated the New Year with our son. By the way, I named my child Khian James Gerard. I gave him the name Gerard because of Saint Gerard, whose intercession I have sought since 2014. Today, on behalf of my family, I thank Saint Gerard Majella and the whole Saint Gerard community for your prayers. May you continue to include our family, especially my child, in your daily prayers. Thank you and may God bless us all. The photos are of my God-given gift, my son. You can publish this Father Joe. You can include my name and my sons photos too. Glory to God in the highest and thanks to Saint Gerard for his intercession. Amen.
---
A THANKSGIVING/PRAYER REQUEST FROM RUTH AND DOT
Saint Gerard Majella, thank you so much for the most precious gift. I just gave birth to a healthy baby girl. My entire family would like to thank you for the prayers. May Saint Gerard continue to protect, guide and bless us, especially my baby girl. Thank you for granting our hearts need to have a baby.
---
ANONYMOUS THANKSGIVING
I continue to be grateful for all the prayers and support you and others have extended to me during both of my pregnancies. I feel so blessed to be touched by the love and kindness of strangers and to have the opportunity to be able to carry my babies and be their mother. Life is a miraculous thing and an amazing way to be invited to share God's love. Thank you for the wonderful work you do. God and prayers are powerful. They offer us hope and a chance to express our gratitude.
---
ANONYMOUS THANKSGIVING AND TESTIMONY
I thought you might like this: Another granddaughter by marriage just had a baby. She didn't have any religion. I sent her the enrollment in the League of St. Gerard and she wore the medal and prayed to St. Gerard. Before the baby was born in February of this year, she took instructions to enter the Church. Not everyone knew about it. So, when the priest was going to baptize the baby, he announced that there would be "two baptisms today," the mother and the child. What a surprise! We are so grateful for this grace.
---
THANKSGIVING FROM CHIBUZOR
Hello, thank you so much for all the prayers. My baby was delivered on Friday, April 7th. I had him through a C-section, even though I had prayed for a normal delivery. God had better plans for me, and I saw the reason why I ended up with the C-section. One thing I've learned in all of this is that God definitely has the big picture and we must learn to trust God completely! I'm so grateful for the gift of motherhood and I pray sincerely for all women who are still in the waiting room, that our good Lord, through the intercession of St. Gerard, might grant them their hearts' desires. Amen.
---
AN ANONYMOUS THANKSGIVING
I would like to give thanks and praise to our Mothers' Saint, Gerard Majella. Through his powerful intercession with our Lord, Jesus, the Christ, I was able to deliver a healthy baby girl named Emma, on April 1st, despite some complications along the way. We are safe and sound! Thank you so much for your continuous prayers.
---
THANKSGIVING FROM AILEEN AND JOEL
Hello, Saint Gerald Majella community. I am here to thank you for your prayers for all mothers, those that have children, those expecting to have children and those praying to become mothers. You have always prayed for me and my husband during our difficult moments, like when we lost our babies in 2006. By the grace of God we were able to conceive again during the first quarter last year and I delivered baby Aiyannah last October 27, 2016 and now she's five months old. To God be the glory!"
---
THANKSGIVING FROM ADLINE
I am using this opportunity to thank those who prayed on my behalf for a safe delivery. The good Lord has done it for me. I gave birth to a baby boy on the 25th of February and I named him Gerard, because of St. Gerard's intercession. God really answered him and the other saints who also interceded for me. I say thank you so, so much, and also to all of you, my fellow members of Saint Gerard Majella, I thank you for your prayers. I'm sorry this is coming late, but just that after child birth I was very down, but now I am very strong, in Christ. Thank you.
---
AN ANONYMOUS THANKSGIVING
I would like to thank St. Gerard and all those who prayed for me previously, that I would carry my baby full term, after two previous miscarriages. My perfect little baby girl was born healthy. Thank you, Lord, for blessing me with such a gift and may you continue to ensure that my little bundle of joy lives a happy and healthy life. Also, watch over all others who have trouble conceiving and bless them with the fruit of the womb, in Jesus' name. Amen.
---
THANKSGIVING FROM MARIEL AND RONIE
My husband Ronie and I would like to say thank you to everyone who prayed for us, for the safe delivery of our son. We waited five years for this wonderful blessing and I safely delivered our baby boy, David Luis, at 37 weeks, on February 28, 2017. God is good, all the time. Have faith and never lose hope. Again, thank you for including us in your prayers. St. Gerard, thank you for praying for us. God bless us all!
---
THANKSGIVING FROM JOSELITA
Thank you, St. Gerard, for our friend who asked us to pray for your intercession that she would conceive. She did, and just yesterday delivered her most beautiful baby girl!!! Praise the Lord!!!
---
A THANKSGIVING/PRAYER REQUEST FROM MARIA
Could you please post the following: first I want to say thanks so much for posting for me. We were happily surprised to just learn that we are newly pregnant, and at the very beginning of our pregnancy. We want to express our thanks for all the prayers. While excited, we are a bit nervous, given our age (in our 40's) and the fact that my husband had a loss from a miscarriage with his ex-wife very early on. We have our first visit for heart beat on March 26th and would very much appreciate continued prayers for a healthy pregnancy, baby, and safe delivery. We will continue to pray for others as they have prayed for us. God Bless. I'm actually tearful now because I just realized that the first prayer request went out on February 4th and we conceived approximately twenty short days thereafter. God is so good and we are so blessed. Thanks for the service you provide Saint Gerard Majella – The Mothers' Saint.
---
AN ANONYMOUS THANKSGIVING
I would like to say thank you to everyone on this page who prayed for me and my family. I am now 25 weeks pregnant with a beautiful little girl, after years of trying. Please don't ever give up on God. Pray with hope and don't worry. God is merciful and will hear your prayer. God bless everyone. I can't thank you all enough.
---
THANKSGIVING FROM SUNSHINE AND HER FAMILY
We thank St. Gerard and all those who prayed and interceded for Sunshine. She safely and successfully gave birth by C-section to a beautiful 5.5-pound baby, Olivia. We give all glory, thanks and praise to God for his love and mercy. We also ask prayers for continued protection of both Sunshine and Baby Olivia. Many, many thanks.
---
THANKSGIVING FROM OLIVE
Thank you so much for all your prayers. Jenny delivered her baby girl, Macey Olivia. They are both in good condition. God heard and answered our prayers. Thank you everyone. St. Gerard you really took the hand of Jenny and walked with her. Thank you so much. God bless us all.
TABLE OF CONTENT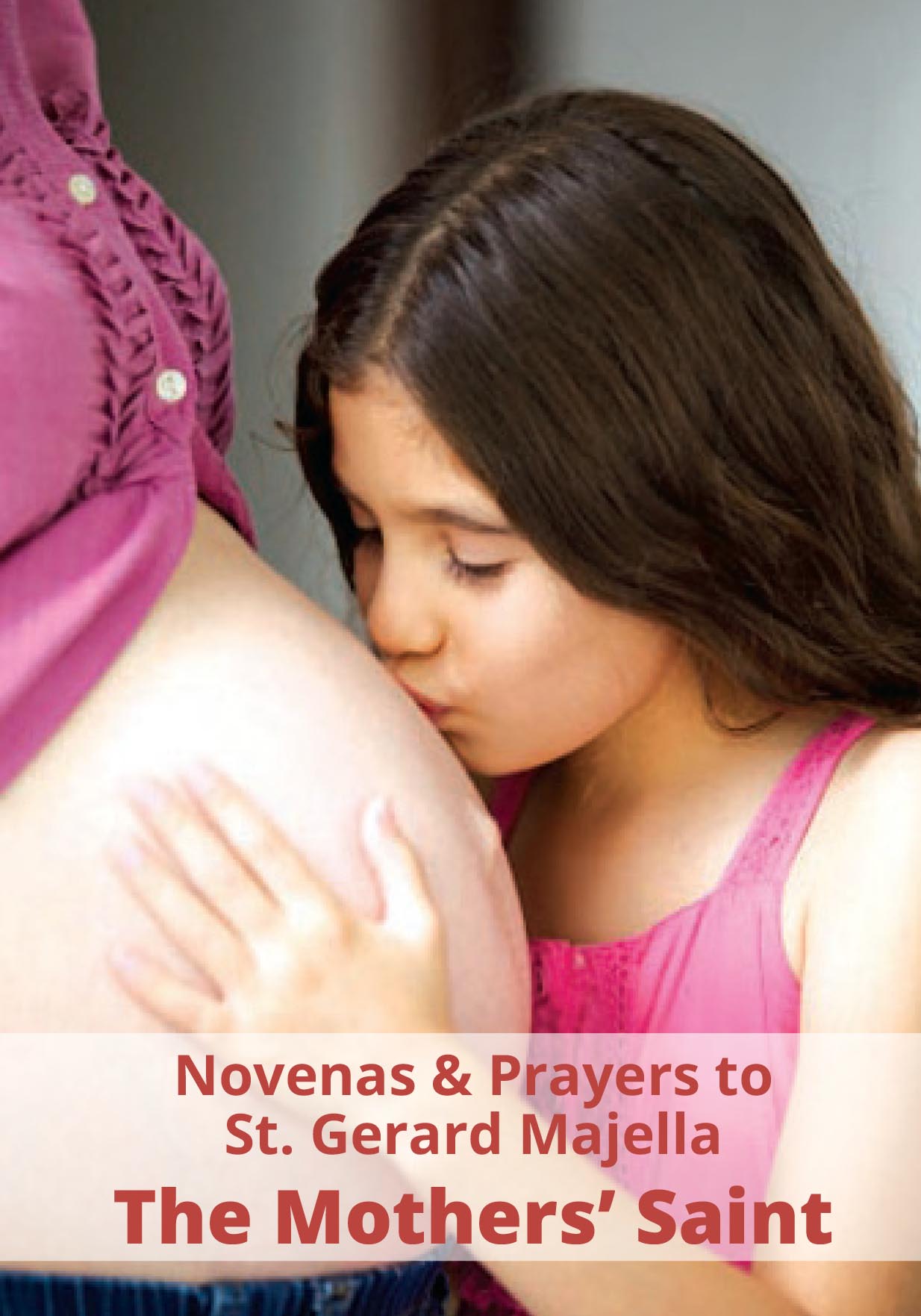 Prayer to St. Gerard
Blessed St. Gerard on this day specially dedicated to mothers, when we lovingly remember all our mothers, we ask you to intercede for all mothers and obtain for them the distinctive graces and blessings they need to live their vocation and mission faithfully and joyfully.
We pray in particular for women who are trying to be mothers in very difficult situations: where there is war, bombs and bloodshed, violence and injustice; where there is hatred, bigotry, prejudice, discrimination and xenophobia; where there is a need to flee from home and country in search of freedom, safety and security; where there is poverty, homelessness, unemployment, no access to housing, health care or good schools.
May every mother be blessed with wisdom and understanding, peace and patience, courage and strength generosity and compassion, and all other virtues needed to help them be the best possible person, the best mother possible.
Amen.